Community Care
Dr. Beth Mulberry '86 provides an upstream approach to healthcare for uninsured and underinsured residents of Greensboro, North Carolina, through Mustard Seed Community Health.
By Matt Wing
Cynthia Nelson had lost her job. She lost her health insurance. She was losing hope.
The then-62-year-old resident of Greensboro, North Carolina, had long been treated for Type 2 diabetes and high blood pressure, but was now uncertain how she'd be able to afford her medications. She knew the danger of letting her conditions go untreated.
Nelson sought coverage under Medicare. She was told she didn't qualify. She looked into the Affordable Care Act. No help there.
Nelson was falling through the cracks.
"I was surprised because I didn't know what people like me were supposed to do," Nelson said. "I needed insurance. I couldn't afford it, but I had to have it. And it's not just me — there are a lot of people who fall into the same category."
Nelson eventually spoke to someone who referred her to Dr. Beth Mulberry '86. They informed her Mulberry ran a clinic for uninsured and underinsured residents of the community, right in Nelson's east Greensboro neighborhood.
Nelson scheduled an appointment and met "Dr. Beth" at Mustard Seed Community Health, a nonprofit healthcare facility in Greensboro's Cottage Grove neighborhood.
"When I first met Beth, we had a conversation about my health," Nelson recalled. "She actually listened to me, and she was the first doctor that I had been to in years that saw me as a person and not a number.
"She treated me like a person and gave me the medical care I needed."
•••
Being part of a community has always been important to Beth Mulberry.
She grew up in the tight-knit community of Metamora, Illinois, where everybody knows everybody else.
"I think of it as being raised by a village. I had awesome parents but I was also raised by that village," Mulberry said. "Everybody knew who I was, and I knew that I needed to behave, or the news about me misbehaving was going to precede me getting back home."
Mulberry later found community at Illinois Wesleyan. She felt a sense of belonging as a member of IWU's basketball and softball teams. She felt it as a member of Kappa Delta and the marching band. She relished the opportunity to explore a variety of interests, from photography and theatre classes to religious life involvement, and was inspired by her professors.
"I just never understood why anybody would ever want anything else besides a liberal arts education because you are able to do all that stuff," Mulberry said.
Mulberry's IWU community also served as a support system when her father died unexpectedly at the end of her sophomore year. Illinois Wesleyan's Parent Fund, which offers donor-funded grants to students who lose a parent while enrolled at IWU, provided much-needed financial assistance. She received compassion from her academic adviser, biology professor Bruce Criley, who helped her through the difficult time.
"After my dad died, I had to come back to school to sit down with Dr. Criley and get my classes set up because I had missed the sign up," Mulberry recalled. "He picked up that phone and called people and got me all set up. He came off as gruff to some people, but he was just such a good guy."
After graduating from IWU, Mulberry moved on to the University of Illinois College of Medicine at Peoria, just a few miles from her hometown. But after completing the combined internal medicine/pediatric program there, and serving her residency at nearby OSF St. Francis Medical Center, she was unsure of her next move. She thought about traveling the world or learning another language. She considered the Peace Corps, but the organization surprisingly showed little interest in the new doctor. "They didn't know what to do with me," Mulberry said, laughing.
Eventually, she came across an intriguing opportunity found "at the bottom of the job box."
Mulberry made the long journey to western Alaska, more than 3,200 miles from home, to join Indian Health Service, a division of the U.S. Department of Health and Human Services. There, she and others provided care for over 50 Yup'ik Eskimo communities. Each physician was assigned to a number of communities — Mulberry was responsible for three of them — and every six months, physicians would spend a week living in those communities, most of which lacked running water and indoor plumbing.
Mulberry felt that important sense of community during her time in Alaska, while also acquiring a firsthand awareness of the difficulties some face with access to healthcare.
"I had already known I wanted to do something like I am doing now, though I had no clue what exactly, or how," Mulberry said. "But going up to Alaska and working with some really spectacular individuals really solidified the idea that I would eventually get to where I am now, doing something like this."
•••
Mulberry worked in private practice in Oregon and North Carolina. It paid the bills, but it didn't bring her the same joy she felt serving the Yup'ik communities in Alaska. She felt the pull to return to that kind of work.
In 2007, she joined HealthServe, a Greensboro clinic serving individuals and families living below the poverty line. The work gave her purpose and allowed her to serve a community in need.
But Mulberry wanted to provide more holistic care. She wanted to address the social determinants of health. The care she provided often felt like temporary fixes, with patients usually returning a few months later with the same ailments.
She wanted to be able to provide health solutions that would more dramatically improve patients' lives.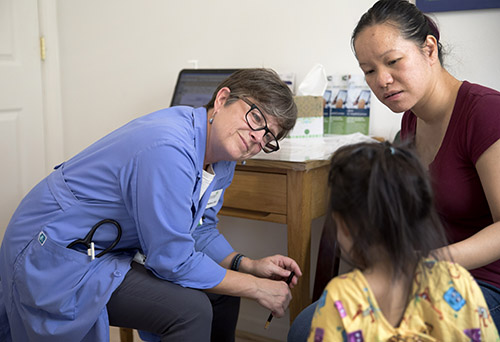 Mulberry left HealthServe in 2012 and focused on her family while pondering her next move. She eventually found herself at Church Health, a faith-based nonprofit in Memphis, attending a series of workshops for individuals interested in starting nonprofit healthcare clinics in their communities. The prospect of opening and operating a clinic — and providing unprecedented access — suddenly seemed possible.
Mulberry left Memphis confident she could move forward, but spoke with a few trusted advisers before taking the leap.
"Even before Mustard Seed, Beth and I had numerous conversations about her work with those without adequate healthcare or insurance," said Julie Peeples, senior pastor at Congregational Church in Greensboro. "When we began talking about starting a new clinic, she shared her dream of providing a place where everyone is treated with dignity, where health and wholeness take priority over the bottom line and the needs of the medical and insurance systems."
Mulberry followed the steps she had learned in Memphis. Paperwork was submitted for nonprofit status. A board was formed. A location in east Greensboro, where most of the clinic's patients would be coming from, was secured.
Mustard Seed Community Health was born.
"I have witnessed Beth's deep commitment to this vision when she speaks with potential partners, donors and people in the community," Peeples said. "Her vision has been a vital part of transforming an entire community."
•••
The biblical parable of the mustard seed suggests that big things can come from small beginnings.
What started as a weekly volunteer clinic in 2013, is now open five days a week. Mustard Seed serves a diverse population Mulberry says is primarily African American and Hispanic/Latinx, with smaller populations of whites, and Asian Americans and Asian immigrants, including a number of refugees from Bhutan, Myanmar and Vietnam.
Last year, the clinic served nearly 700 patients who made about 2,200 visits (Mulberry also frequently conducts home visits for those physically or financially unable to visit the clinic). Most patients pay about $20 for a visit, and Mulberry and her team help them obtain prescriptions as affordably as possible.
Beyond providing accessible and affordable care, Mustard Seed takes a holistic approach to healthcare. Rather than simply treating symptoms, Mulberry and her team seek to identify and address the causes of health issues. This "upstream" approach has clinicians looking at the social, economic and environmental origins of health problems instead of only managing symptoms.
Early on, Mulberry noticed an alarmingly high rate of asthma in her Greensboro patients. Taking the upstream approach and looking for root causes, Mustard Seed partnered with a local housing coalition to study the conditions in local residences. They found mold and mildew in many housing complexes, and they now help steer local residents to housing that meets acceptable standards.
Other health issues are addressed by applying the upstream method. Patients facing mental health issues have access to counseling. Families without access to fresh food have a community garden at their disposal. Patients feeling isolated are welcome to group events as diverse as the patients themselves.
Mustard Seed's blueprint for healthcare has been praised by both local and national media, with stories in the local News & Record and a December 2018 segment on PBS NewsHour .
Mulberry, though, is the lone physician treating patients at the clinic, which only employs a handful of others, including a nurse and an office manager. Much assistance comes from volunteers, including a number of translators.
The modest overhead requires Mulberry to cultivate partnerships to expand services. She's worked closely with the City of Greensboro, local colleges and universities, local churches and youth groups. Mulberry partners with local schools to begin teaching healthy lifestyles early on.
The community partnerships Mulberry has fostered — combined with devoted fundraising efforts — has allowed Mustard Seed to live up to its name. What started as a once-a-week volunteer clinic has become a community-centered integrated care clinic offering a wide range of programs and services.
"Beth has built a community coalition of neighbors, social workers, nurses, educators, gardeners and physicians, who are working together to vastly improve the quality of life for many," said Peeples. "The seeds she has been planting will bear good fruit for generations to come in a community that was in dire need of access to healthcare and decent housing, in dire need of hope."
•••
For the first time in her life, Cynthia Nelson has a doctor she trusts.
The admittedly stubborn 64-year-old resisted Mulberry's advice initially. Now she embraces it.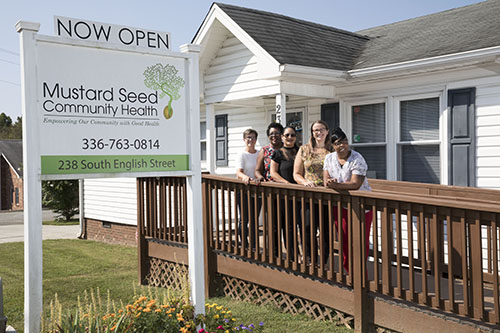 Mulberry has helped Nelson manage the medication to treat her diabetes and high blood pressure. She's encouraged her to eat healthier. She even persuaded Nelson to see a mental health specialist to treat depression.
Nelson refused at first, but eventually relented after Mulberry's persistence.
She now admits her doctor was right.
"We all need someone to talk to," Nelson said. "Your mental health affects your physical health, and I'm concerned about both. You can't treat one without the other, because they work together."
Once distrustful of all doctors, Nelson has changed her tune. She says the world needs more physicians like "Dr. Beth." She says Mulberry is "like a best friend."
"I will go wherever Beth goes," Nelson says matter-of-factly. "It's to the point that if she moved away, I would find a way to move where she is so I could continue to be seen by her."
But Mulberry's not planning a move. She's found in Greensboro the same feeling of community she found in Metamora, at Illinois Wesleyan, and in the Yup'ik villages of Alaska.
And in Mustard Seed, she's created a community for a population in need.
"To me, it's very energizing, the community aspect of this. Seeing a community thrive, it just lights my fire, basically," Mulberry said. "That's what we're hoping to continue to build here in this community."